Trade straight into the order books of the world's equities and futures exchanges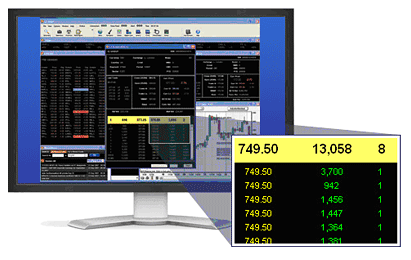 The unrivalled transparency and flexibility of Level 2 trading is becoming essential for the expert or professional market participant – harness the advantages with our advanced L2 Dealer platform, originally developed for our own dealers.
Note: In order to gain access to L2, you are required to open an account before the upgrade can be enabled.
Key Features
In addition to all the main functions of our L1 platform (Reuters feed, top-end charting, free research and more), L2 has a number of features developed exclusively for the DMA trader:
Pro Watchlists Place orders in batches – direct from a watchlist of your favourite stocks
Excel compatiblity – Drag and drop lists of stocks straight from Excel into (and out of) your watchlists
Time and Sales data – See a full chronology of recent trading data for a stock, indicating trade quantity, price and type
Monitor entire indices Our 'Trigger pages' – give an overview of all the current prices of an index's components, updating in real-time.
Order minder – Open a Level 2 trade then leave a closing order against our OTC equivalent for peace of mind
Track your orders – Use the Trade Book to monitor your orders as they are being worked in the market


View the full order book – A Level 2 screen (shown) reveals the full depth of the market for a stock. Crucially you can see the number of securities for sale and on offer; and the number of buyers and sellers at each price. Access to this information, combined with the ability to join the queue yourself using a DMA platform such as L2 Dealer, can lead to more informed trading.
Compare buying vs selling interest – Knowing how many bids are queued on either side of the order book can give insights into the possible future direction of a stock.
Get inside the spread – Place your own orders in the queue and trade directly with other market participants by setting your own price – as a price maker you may get opportunities to trade within the normal spread.
Time your trades – When placing large orders you can account for market liquidity when considering when to place the trade.
Be anonymous – You can enter the market anonymously, and slice large orders into tranches ('iceberg orders') to hide your full size. Meanwhile you can look out for this type of automated trading among other participants.
Enter auctions – As a DMA participant you can enter stock auctions, where the best prices often become available.
Trade The Key Equity Markets
JSE (South Africa)
LSE SETS, SETSmm and market maker stocks
NYSE
NASDAQ
Euronext
Deutsche Borse
Stockholmsborsen
SWX
ASX
Singapore Exchange
FX Trading
A professional spot Forex service aimed at institutional users and active traders.
Futures
Our service allows you to deal directly in a wide variety of futures markets on major exchanges from around the world.
Indicies & Options
We offer a large number of OTC contracts on stock indices and options. These can all be traded through our L2 Dealer platform.